Cryptocurrency trading is booming in the US and new exchanges are launched every month. To sort out the legitimate US crypto exchanges from the bad actors we've done extensive research and reviewed dozens of platforms to give you the list of the best cryptocurrency exchanges in the USA.
It takes more than a flashy interface to be considered a quality crypto exchange. What we regard as a top US crypto exchange offers great solutions to buy bitcoin and cryptocurrencies with fiat currencies, a robust security structure, low fees, plenty of special features, and high limits, is available on desktop/tablet/smartphone/web, a high-end day trading interface, and of course, government regulation is always a huge plus.
Top Crypto Exchanges Located in the USA
We've decided to only feature cryptocurrency exchanges located in the United States to make the list more authentic to US traders and investors. Here is a summary of our top picks:
Depending on your type of trading or investing, we highly recommend that you read through each review to better understand how each cryptocurrency exchange works.
They all have very different features to fit any crypto trader from the US.
Some of these platforms are cryptocurrency exchanges located in the US and some are located outside but are crypto exchanges that accept US traders.
Use the Quick Review tab to get more information before getting started.
Best Crypto Trading Platforms USA Compared
Looking for a different kind of exchange?
See our selection of crypto exchanges that we promote and review.
Choose between low-fee, day trading, fiat-to-crypto, investment sites, high-security, and altcoin exchanges.
How do we rate the best US Cryptocurrency Exchanges
Below follows a review of each American digital asset exchange that we mentioned in the list above. In these reviews, you will be able to screen through some of the most important aspects of any legitimate US crypto exchange and trusted bitcoin investment sites.
Below is a table of exactly how we have rated the best cryptocurrency exchanges in the USA:
Regulation – Most of the exchanges we have recommended have a government regulation to increase the safety for their users.
Products – Buy, sell, and trade crypto with spot markets, futures trading, options, swaps, or ETFs.
Fees – A well-established digital asset platform offers low deposit fees and low trading fees to all investors and traders.
Special Features – This is what separates all exchanges, features such as real stop loss, OTC market, staking, automated trading, and demo accounts.
Trading Tools – A quality US exchange should feature great tools to help its traders make better decisions, such as Tradingview, Autochartis, and ZuluTrade.
Best For – We always recommend different exchanges to different kinds of day traders, swing traders, investors, or sometimes all kinds of traders.
Mobile App – A mobile app extends the use of any high-quality exchange in the United States by offering clients to trade on the go.
Customer Support – We regard professional customer support agents as a crucial part of a quality platform.
Funding – One of the most important steps to begin buying or selling cryptocurrencies is the on-ramp from fiat currencies.
Limits – Great digital asset platforms offer low minimum deposits and very high maximum withdrawals.
All exchanges below have one thing in common, they are all located in the US with offices somewhere in the United States. This means that all US digital asset traders will be able to sign up, deposit money, buy, sell, and trade cryptocurrencies in the US completely seamlessly. At the end of each platform overview, there is a link to the full review of each exchange where you can read up on everything there is to know about each specific exchange.
Using one of these platforms is the best way to buy bitcoin and other altcoins in the US and you will also find some of the best bitcoin wallets in the US on these digital asset exchanges.
Later on in this article, I will explain in-depth how to open a cryptocurrency and bitcoin account in the USA. If you know how to make money with cryptocurrency you are definitely suited on one of these sites.
If you are interested in margin trading digital assets you should read our guide on crypto margin trading for US traders.
BlockFi
BlockFi is a US-based digital assets exchange that is well recognized for its generous BlockFi Interest Account (BIA) where traders can earn up to a 7.5% APY. It is currently one of few regulated platforms to offer high returns on cryptocurrency interest accounts. It is considered one of the most reputable exchanges in the United States.
BlockFi offers 0$ trading when exchanging cryptocurrencies which is a huge advantage for all traders trying out this platform. Since this is a regulated platform, you can rest assured that your digital assets are safely stored and insured by the operator, giving the platform extra credibility.
It is safe to say that this exchange has something to offer for all traders and investors at retail or institutions. Use the interest account to earn crypto income passively or borrow against your digital assets.
BlockFi Overview
Regulation
BlockFi currently holds a government regulation in the US by The New York State Department of Financial Services (NYSDFS).
Products
The most popular BlockFi product is the Interest Account for cryptocurrencies with a yearly APY of 7.5%. Instant crypto-to-crypto exchange are also avaiable. Crypto-backed loans is another flagship product by BlockFi.
Fees
BlockFi charges 0$ exchange fees. The only fee applied is the withdrawal fee that varies from coin to coin.
Special Features
Some of the best features on BlockFi are US cryptocurrency lending, institutional trading in the USA, fiat account for USD, an investment product for passive investors, quick registration, recurring crypto purchase, cashback, and promotions.
Trading Tools
BlockFi is considered professional trading platform and has designed a great crypto trading app for US traders including their own instant exchange tool to swap betwen altcoins.
Best For
BlockFi is very user-friendly and we recommend it to all traders of all levels. It is however more suited towards US investors as it is currently lacking an interface for active day trading.
Mobile App
The crypto mobile app designed by the team behind BlockFi offers all the same tool, products, and features as the desktop version.
Customer Support
To reach the BlockFi customer support team you can either send an email to support@blockfi.com or give them a call at +1 646-779-9688.
Funding
All active payment methods on BlockFi are Cryptocurrencies and Bank Transfers.
Limits
Thanks to the BlockFi OTC market the limits on this American crypto exchang are very high and it's suited for both small and large investors.
BlockFi Interest Account(BIA)
Through the interest account, you will be able to earn a passive income topping out at APY 7.5% which is a yearly payout that you've earned on your deposited altcoins. This is one of the highest returns you will be able to come across on a regulated platform. It's super easy to get started with earning crypto on the platform which is why so many traders prefer to use this service over others.
Borrow Cash with Cryptocurrencies
It's just as you think it will be. On BlockFi you can borrow real cash, or USD, with your digital assets as collateral. Instead of just holding your altcoins in a wallet you can make great use of them by borrowing money and keeping your coins stored meanwhile. You can get started with borrowing cash the same day as you sign up and you can request a payback without penalties.
Prime Service for Institutions
If you are an institutional investor or working for a company that is looking for exposure to digital assets you can use the BlockFi prime service lets you use settlement limits with a 24-hour cycle, real-time quotes, and an API that lets you use all these features in your own systems if you are a programming trader or a high-frequency trader. This service is great for larger traders that know how to analyze cryptocurrency and want to enter the investment world in a safe way.
BlockFi Trust
This is a passive investment product created for crypto investors who are looking for exposure to bitcoin, ethereum, and litecoin. The Trust lets institutional investors implement their own strategies through this service instead of actually investing in the underlying digital asset. This is a safer way for companies to get their feet wet and in the digital assets market with less risk.
BlockFi Crypto Credit Card
This is one of the most sought-after products on the platform and the credit card can be used for daily purchases such as rent, food, petrol, or simply cash withdrawals from an ATM. You get 1.5% cashback in bitcoin on all your future purchases and if you spend over $50,000 your cashback is increased to 2%
For a detailed review of the BlockFi platform click the button below.
BitMart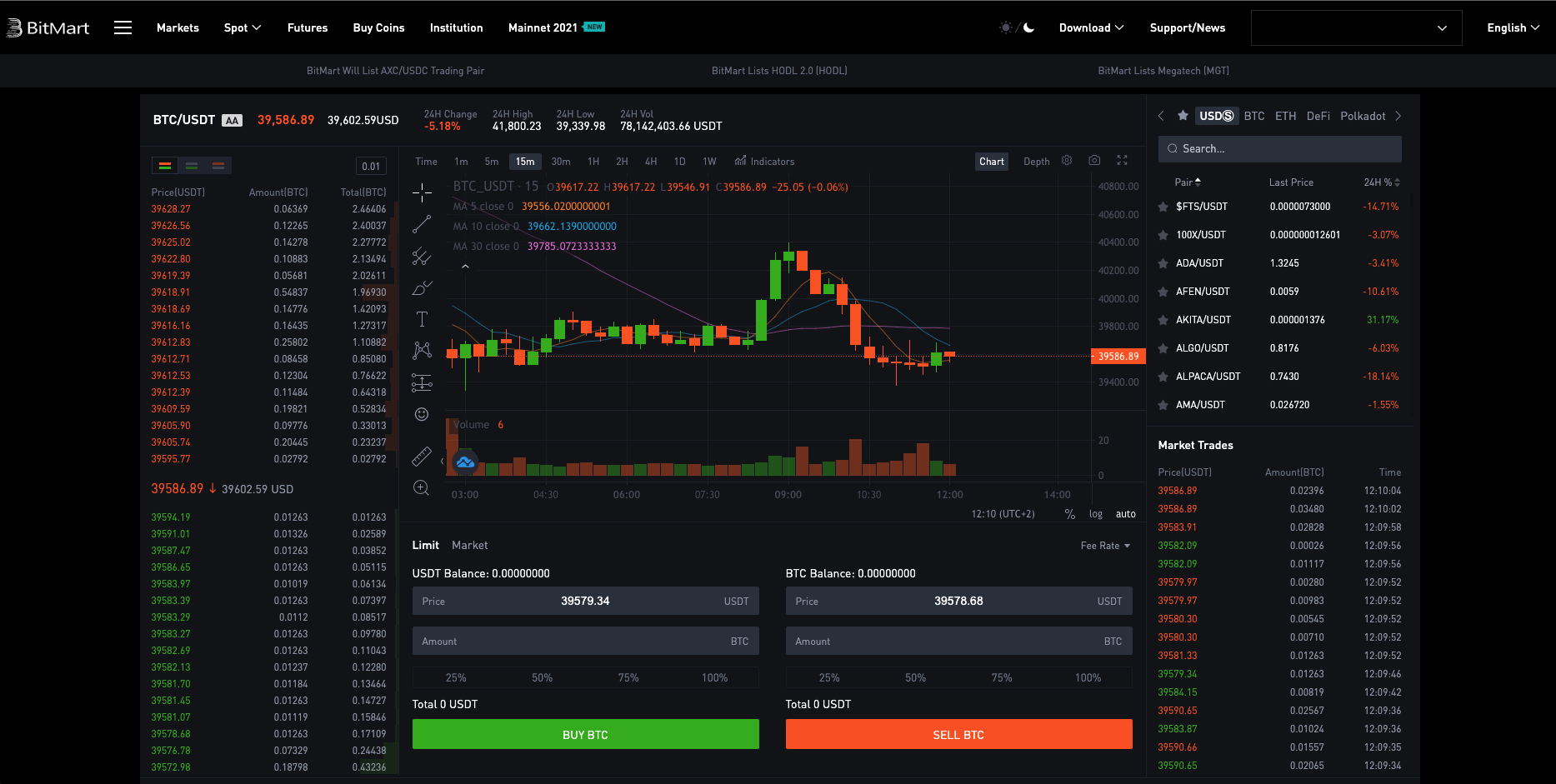 BitMart is one of the most trusted and user-friendly crypto exchanges in America that has a multi-purpose to serve both investors and crypto day traders. Featuring a very easy-to-use interface, superb mobile app, professional customer support with almost instant answers through live chat.
This platform offers great fiat onramps to buy cryptocurrencies in the USA with Visa, Mastercard, Apple Pay, PayPal, Bank Transfer, and Gift Cards. The limits are very favorable for both small and larger traders which makes for a large audience all over the world and specifically in the US. So far, English is the only languages support on the exchange and there are very few restricted countries.
The platform is accessible on most devices such as desktop computers, tablets, and smartphones which makes it very easy for users to overview account balances or open positions when out of the office. Some market orders that are offered by BitMart are market orders, limit orders, and plan orders.
BitMart is also one of the few sites in that offers plenty of altcoins. Here you will be able to find the best penny cryptocurrencies to invest in.
BitMart Overview
Regulation
BitMart is regulated in the United States under the Financial Crimes Enforcement Network or FinCEN.
Products
BitMart offers great spot trading in cryptocurrencies as well as a futures trading pit that is accessible for both retail clients as well as institutional traders. ICO's are also listed on the platform where user can join new crypto projects.
Fees
When it comes to trading fees on BitMart for entry level traders there is a 0.25% maker and trader fee for both spot trading and futures trading.
Special Features
The most popular and important platform features are crypto leverage trading in the USA, the staking program, BitMart OTC market where you can earn cryptocurrencies passively, and finally the two trading interfaces for both basic and advanced traders.
Trading Tools
BitMart offers Tradingview as a standard charting tool that is guaranteed to deliver high quality and extensive research tools for technical traders. The crypto trading app is also a great tool for investors on the go.
Best For
We consider BitMart to be a very allround platform that is best suited for US traders that are actively going to either swing trade or day trade cryptocurrencies regularly. It is suited for beginners but it will take some time to learn the platform.
Mobile App
BitMart has a great mobile app for crypto trading and investing that offers similar tools as the desktop or web version. Through the app you can make technical analysis and one click trades are also available.
Customer Support
BitMart has earned the professional support bade from the Tradingbrowser team which is considered a quality badge that is only aquired by platforms that offers instant live chat answeres.
Funding
BitMart currently offers some of the most popular payment methods in the US such as Credit cards, debit cards, Apple Pay, PayPal, Bank Transfers, and Gift Cards.
Limits
For traders just starting out on the BitMart platform there is a $10 minimum deposit and $10 minimum withdrawal limit. There is not upper maximum withdrawal limit so the platform is well suited for larger traders or investors in the US.
BitMart Shooting Star IEO Platform
The Shooting Star IEO platform lists ordinary ICO tokens and IEO tokens that are new on the market and open for investment. It is a very simple tool that is easy to use and you don't need to be an expert to get started. This ICO platform for US traders is well recommended and we consider it to be one of the most seamless platforms to get involved with new cryptocurrency projects.
BitMart Staking
BitMart lets you earn crypto passively through a very easy-to-use staking platform. It is a very secure way to stake your coins instead of just holding on to them without utilizing the full power of blockchain technology. It is a proof-of-stake network where your deposited coins earn a passive income without any staking fees. Bitmart lets customers stake their coins without setting up nodes or worrying about minimum stake amounts, this is a very practical and trouble-free tool for US crypto investors.
BitMart OTC Market
The OTC market on BitMart is a great way for large investors and traders from the USA to get access to good service, low fees, and a high-security over-the-counter market in the United States. The investment process is extremely streamlined and modern, very suitable for traders looking for a frictionless environment to stock up on large amounts of cryptocurrencies in the US.
BitMart Cryptocurrency Lending
This digital finance product is one of the best and easiest ways to lend cryptocurrencies in the USA today. Choose between 15 days, 30 days, 90 days, 180 days, and 365 days cycles. On the BitMart lending platform, you will earn your rewards no matter how the market fluctuates which is a huge safety barrier for entry-level lenders.
For a detailed review of the BitMart platform click the button below.
Beaxy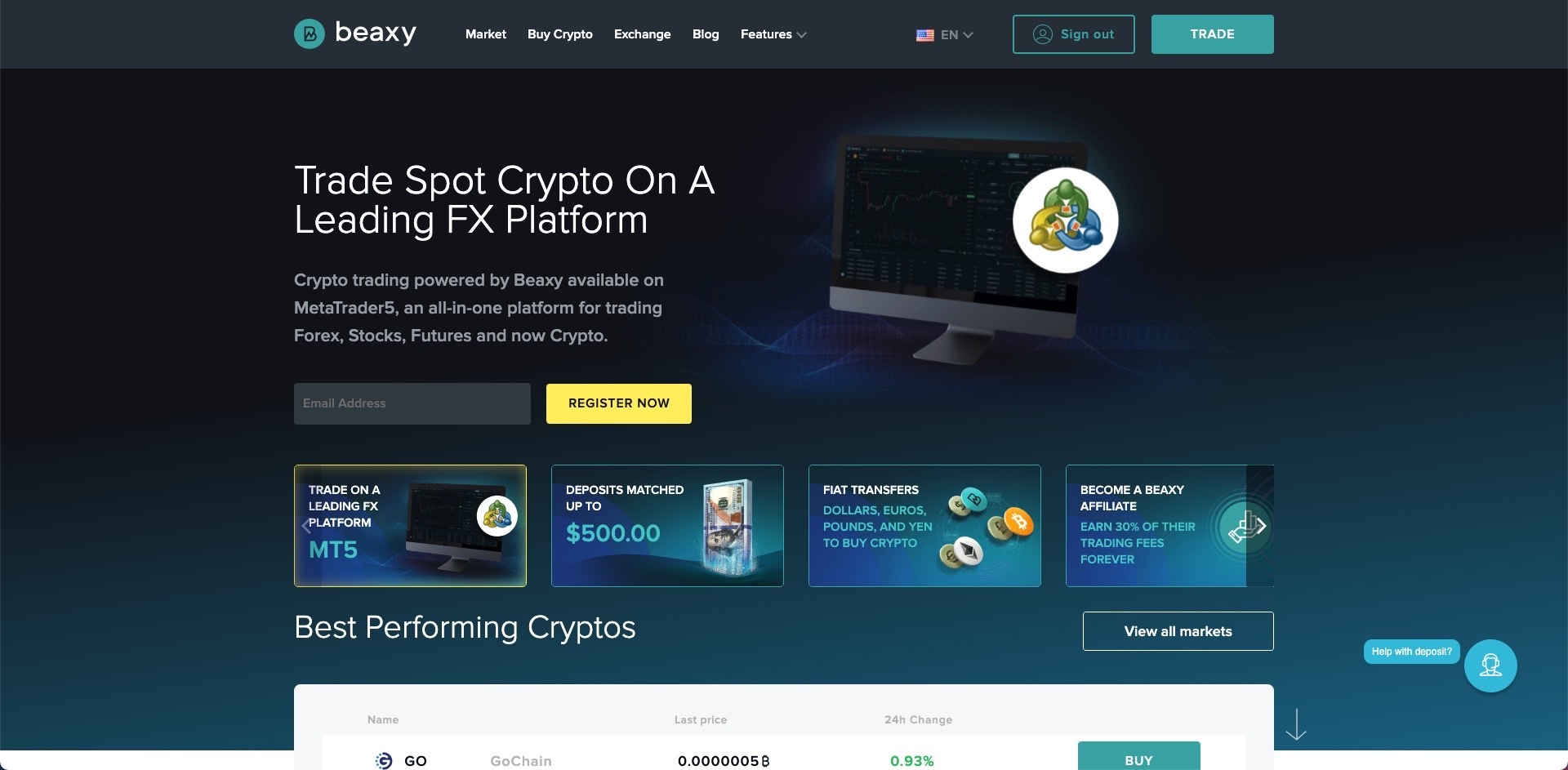 Beaxy is a US-based cryptocurrency exchange most famous for the fiat on and off-ramp, a welcome bonus for crypto, MetaTrader5 charting, Trender crypto signals with 70% accuracy, and a high-rated crypto mobile app. The platform offers several crypto pairs to trade including several fiat-to-crypto pairs as well.
Beaxy is also one of the few American crypto platforms that have the option to convert cryptocurrencies to cash or fiat. When you make gains through your trading you can easily withdraw or sell cryptocurrencies for USD, EUR, GBP, AUD, CAD, or JPY which gives the platform great multi-purpose utility.
Something we really like about the Beaxy exchange is the number of order types offered. Some of the more popular market orders are Market Order, Post Only, Limit Order, Immediate or Cancel, Fill or Kill, and Stop Market. Not only is the exchange very beginner-friendly, but it also has a lot of extra features to help aspiring traders reach a new level.
Beaxy Overview
Regulation
Beaxy is fully licensed in the United States through FinCEN or the Financial Crimes Enforecement Network.
Products
Cryptocurrency spot trading in the US is what Beaxy specializes in.
Fees
The Beaxy fee differs depending on if you are using a market order or a limit order. The entry level maker fee is 0.15% and the taker fee is 0.25%.
Special Features
There are a lot of different variety on Beaxy for all US traders to use. The more important features are buy cryptocurrencies, institutional trading, automated/robot trading, trade alerts for crypto, trading tips, welcome bonus, cyrpto staking, performance analytics, and MetaTrader5.
Trading Tools
Beaxy is unique with offering MetaTrader5 for US crypto traders. This is a flagship charting program that is well known in the forex, stocks, and futures market. Tradingview is also an option if you don't want to use MT5.
Best For
We recommend all traders of all levels to use Beaxy. It is well suited for swing traders thanks to a very easy to use trade interface and US crypto day traders will benefit from the MetaTrader 5 platform.
Mobile App
Beaxy offers a very powerful mobile app with integrated price signals and alerts. It offers great charting, analysis, news feed, and integrations for 33 digital currencies, readily available in your pocket wherever you are.
Customer Support
This platform did not receieve extra credit for good customer support since there is no live chat available. You can reach the Beaxy support team by emailing to info@beaxy.com or filling out the contact form on the website.
Funding
This is an area where this exchange lights up. Beaxy has a seamless on and off-ramp for fiat payments where you can withdraw fiat currencies such as USD, EUR, GBP, AUD, CAD, or JPY. Availavble payment options are Credit cards, Debit Cards, and Bank Transfers.
Limits
To start trading on Beaxy the minimum deposit is $50. There is no maximum or minimum withdrawal limit which lets you spend and sell as much crypto as you want.
Beaxy Deposit Bonus
This is something that has been appreciated by many new traders. When you make your first deposit on Beaxy it's matched up to a value of $500 which means that you have $1000 to trade with. This is very generous and yet another reason to try this platform if you live in the United States. You are free to deposit crypto, cash, or credit and will still be able to receive this bonus. The steps to acquire the bonus are to first sign up for an account, head over to the promotion section and click participate, then finally make your first deposit.
Beaxy Insurance up to $250,000
This feature is something that we always highlight when it comes up and it's for good reasons. When you trade on Beaxy, your funds are insured up to a value of $250,000 and if something were to happen while you are using the exchange, your funds will always be returned thanks to this backup fund. The Tradingbrowser team has increased the rating of Beaxy thanks to this security feature which we think is a must-have for all legitimate US-based cryptocurrency exchanges.
Hummingbot at Beaxy
What is Hummingbot you may ask? The system on Beaxy allows you to trade advanced strategies and employ market-making through a very easy-to-use interface. What makes this trading bot special is that it's incredibly easy to set up and it requires no coding on your part, everything is integrated into the platform and all you need to do is to download and install the software, connect the Hummingbot with your Beaxy account, and then you are good to go.
Beaxy Trender Crypto Signals
If I said that you can get crypto trading signals in the US that has a 70% profitability rate, would you believe it? It's actually true and it's readily available on Beaxy for all traders to use. How it works is very simple, you activate it on the mobile app, and then the interface will send you signals that you can choose to decline by swiping left or swipe right to accept the signal and open a position. It's just like Tinder but for choosing crypto trading strategies with signals.
There is also a pre-built technical analysis tool that is used on the desktop version that has pattern recognition that detects profitable opportunities in the market and sends you a signal notifying you that there is a new trade to take. All you need to do is stay active on the platform and receive these crypto signals.
For a detailed review of the Beaxy platform click the button below.
Coinbase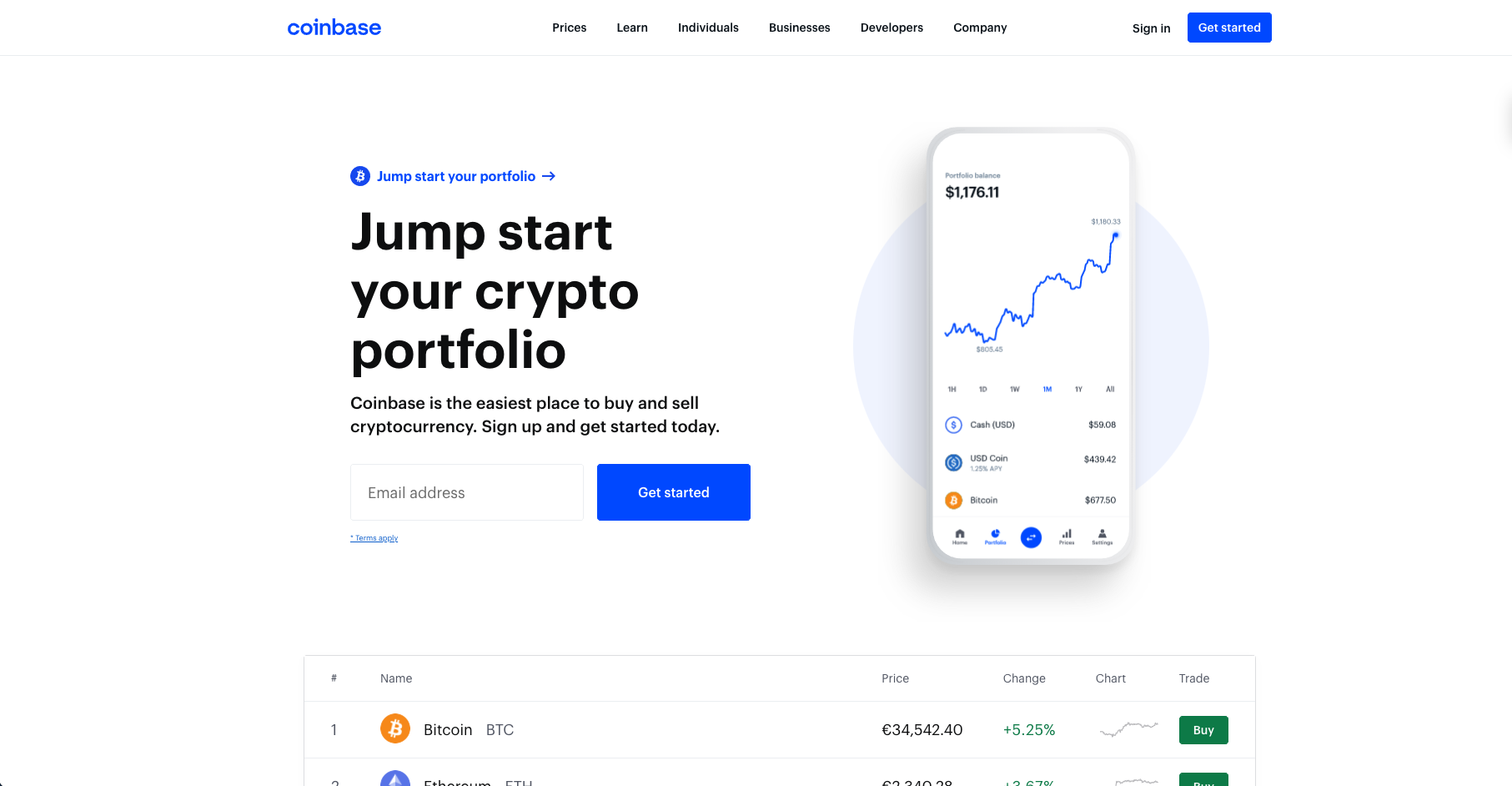 Coinbase is one of the founders of safe and reliable cryptocurrency investing and was brought to life in 2012 while the cryptocurrency market still was in its infancy. This US-based powerhouse of exchange is usually featured in many guides and it's for good reason. The fact that this is one of the oldest platforms to have lived through several bear markets and kept all their customer funds safe is an outstanding track record of being a safe exchange.
Many traders and investors prefer Coinbase thanks to the security infrastructure they have and the ease of use when it comes to buying, selling, and trading digital assets in the US. Coinbase recently got IPO'd on the stock exchange which is another sign that further cement the trustworthiness of this giant and this is something that we highlight in our review as well.
With an excellent rating, Coinbase is one of the most popular investment vehicles for cryptocurrencies in the United States and some of the most interesting features on the platform are great promotions to earn crypto, high limits, staking, OTC market, daily gainers & losers, and last but not least the military-grade security.
Coinbase Overview
Regulation
Coinbase is regulated as a Money Service Business in the United States by the Financial Crimes Enforcement Network (FinCEN).
Products
The only tradeable product on Coinbase is the spot trading for cryptocurrencies. The Coinbase Pro version is an extension of this product in a more advanced interface.
Fees
Coinbase has a flat trading fee of 0.50% which is above standard when it comes to crypto trading platforms in the US. The reason they can charge a slightly higher fee is due to the fact that they have a stand out reputation.
Special Features
The most important features on Coinbase are the high security infrastructure, OTC market in the US, pricate client for trusts and family offices, and their institutional grade custody. It is also one of the easiest platforms to use to invest in bitcoin and other cryptocurrencies.
Trading Tools
Coinbase is not the most advanced platform for active day traders. The exchange features a very simple exchange tool that helps investors either swap coins orbuy with fiat. The Coinbase Pro interface is more suited for advanced traders, but still, it is lacking several key technical tools.
Best For
We definitely consider that Coinbase is best suited for beginner and experienced cryptocurrency investors in the USA. The exchange is extremely easy to navigate and most of the features are built around crypto investing.
Mobile App
Coinbase has a fenomenal mobile app that can be used to track your porftfolio while outside of the office or away from home. This mobile app brings the same level of safety as the rest of the exchange. A great feature available on the app is the dollar cost averaging tool that lets you invest in coins with recurring orders.
Customer Support
The support on Coinbase is not what you might think it is. I've experienced long downtimes in replies and due to the lack of a live chat it's hard to get in contact with someone quickly when problems arise except emailing to support@coinbase.com. They do have a phone number you can use to contact them if the matter is urgent at +1 888-908-7930.
Funding
This is where you feel safe while using this exchange. Coinbase is the most trusted and stable platform when it comes to adding USD and withdrawing USD with Credit cards, Debit cards, Bank Trasnsfers (SEPA, ACH), and PayPal.
Limits
Through the Coinbase OTC market, US crypto investors will unluck very high limits and almost endless possibilities for large traders. The minimum deposit on Coinbase is $1.99 and the maximum withdrawal is $20,000 daily for regular customers.
Coinbase Dollar Cost Averaging (Recurring Orders)
American crypto investors who are interested in spending less time buying coins and more time holding them have a great opportunity to use the dollar-cost averaging tool that will automatically buy coins at a set interval both in time and money. For example, you can choose to invest from $100-$10,000 every week and the platform will buy the chosen coins for you at a pre-set interval.
Coinbase Private Client
Are you a US-based trust, family office, or an ultra-high net worth individual you have the option to use the Coinbase Private Client to access a coverage desk with a personal account manager that features integrated custody with a segregated cold storage wallet. Enable all team members to access your portfolio with an easy system to control all access. This sophisticated trading product with a tailored execution strategy is all done in the high-quality Coinbase fashion.
Earn with Coinbase
You can earn free cryptocurrencies with Coinbase through the earning platform. While you are educating yourself which includes watching guides you will passively earn coins. There are plenty of opportunities and a lot of money to be made for free just by tuning in and watching these guides. It is one of the easiest ways to earn cryptocurrencies for free in the US.
Coinbase Military Grade Custody
This is one of Coinbase's flagship products which has gotten popular over the past years. This is pure crypto custody for American institutions that are interested to get involved with digital assets in the safest way possible. Exactly all digital funds are kept in segregated trusts in the most trusted cold storage in the world. Unlock your business potential with this powerful and secure custody for serious US businesses.
For a detailed review of the Coinbase platform click the button below.
Kraken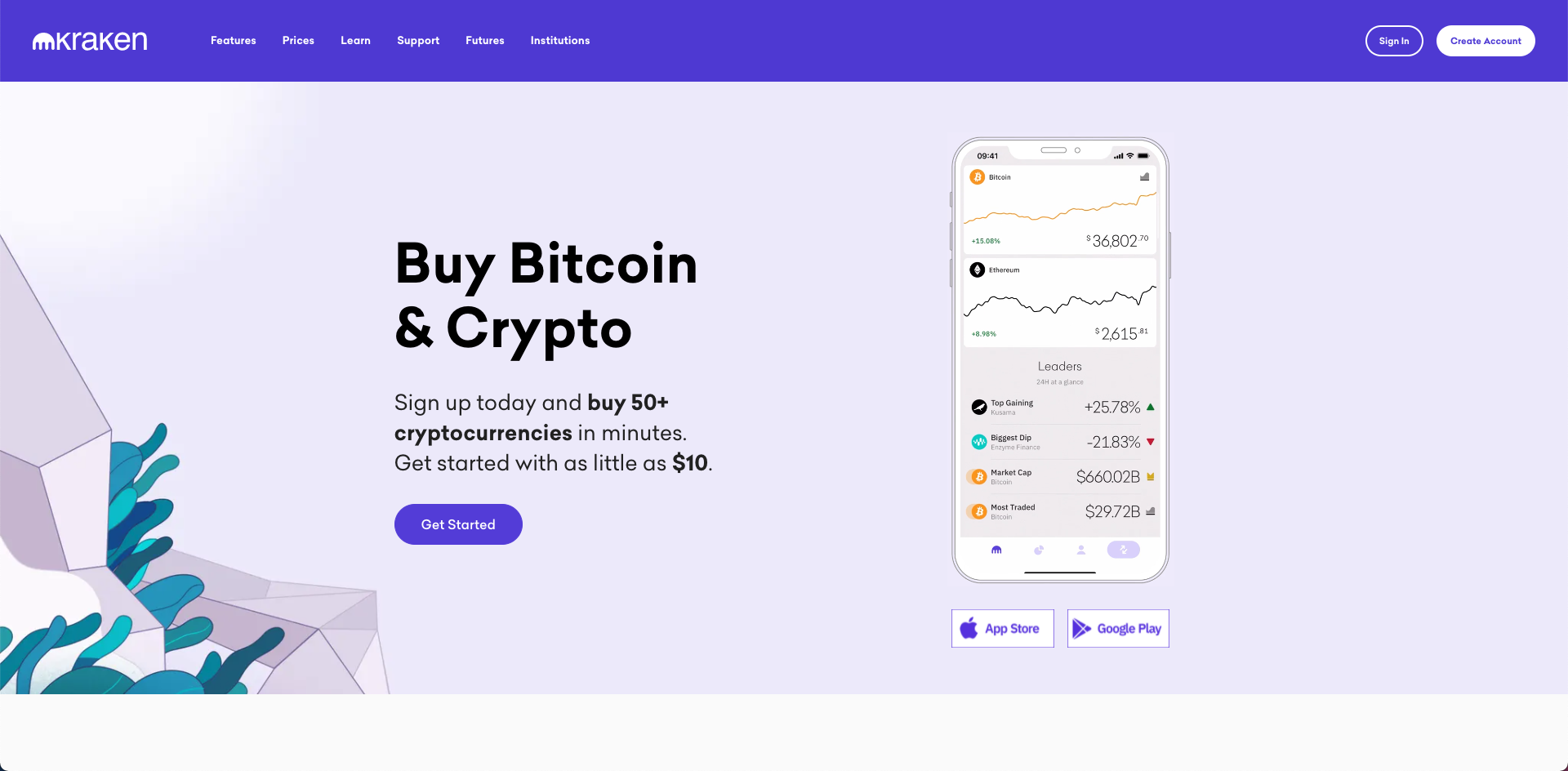 Kraken is one of the longest-surviving and biggest crypto exchanges in the United States and with a track record stretching back to early 2011. This is rather impressive and it's also one of the reasons this quality digital asset exchange has made a great name for itself.
The exchange is full of features for all kinds of traders and investors, both long-term and short-term, beginner and experienced. The fees on Kraken are much more favorable compared to other similar platforms in the USA with a starting trading fee of 0.26%.
Some of the most popular special features on Kraken are a demo account, trade alerts, hotkeys, quick registration, high limits, margin trading in the US, and personal crypto account manager.
Kraken Overview
Regulation
Kraken has four combined governmen regulations which are the following: FCA, FinCEN, FinTRAC, and AUSTRAC
Products
Kraken offers cryptocurrency spot trading, cryptocurrency indcies, crypto futures, and also a forex trading.
Fees
The spot taker fee on Kraken is 0.26%, for futures 0.05%, indices 0.20%, and forex 0.20%.
Special Features
The special features on Kraken that deserves extra attention are the real stop loss order, quick registration, fiat account, short sellting, institutional trading, advanced charting, beginner-friendly, demo account and the high security of funds.
Trading Tools
A hurge perk on Kraken is the access to Cryptowatch which is a premium trading terminal that many cryptocurrency day trader use. Tradingview is also an option where high-quality charts and indicators are a given.
Best For
Kraken is an exchange for all traders at all levels. There are options for longer term investors and short term day traders to leverage all tools and products.
Mobile App
Kraken has 3 mobile apps, believe it or not. There is the standard app for beginners, the Kraken Pro app for experienced traders, and the Kraken futures app for seasoned traders.
Customer Support
Kraken has a live chat but it is not as responsive as many new platforms with a smaller customer base. Contact form is also an option.
Funding
When it comes to funding on Kraken there are several options for US crypto enthusiasts. Visa, Mastercard, Bank Transfers(SWIFT,SEPA), and Faster Payment System(FPS) are all current payment methods.
Limits
For first time traders there is a $1 minimum deposit limit, a $2 minimum withdrawal limit, and a $500,000 maximum withdrawal limit per month. However, through the OTC market larger trades can be executed without any problems.
CryptoWatch interface on Kraken
Here is a great benefit of using Kraken. The CryptoWatch terminal is an advanced interface for active traders who are looking to leverage great technical tools and smooth charts. This powerful tool should only be used by traders who have previous experience since it can be a little bit overwhelming for new traders to understand at first. However, if you do like the terminal I suggest that you spend some time looking at guides to figure out all the details.
Kraken Staking
Kraken is one of few regulated US cryptocurrency exchanges to offer great staking. It is really simple to get started, all it takes is for you to buy the asset you want to stake which can be done by choosing any of the available assets in the spot wallet, stake, and receive rewards twice per week from all your assets. Some of the more popular assets to stake on Kraken are Polkadot, Kusama, Cardano, Flow, and Solana.
Kraken is the oldest cryptocurrency exchange in the USA
This is one of the reasons why so many traders keep coming back and staying on this platform. It is one of the oldest exchanges to have ever existed in the United States and it has done so without any customer funds being lost. This is rather impressive and if you are looking for an exchange with a good reputation, then I highly suggest that you give it a try.
Learning center on Kraken
We always say that a good platform should always educate the traders in order to help them make better decisions. Kraken is one of those platforms. The learning center is fully equipped with crypto guides, videos, and podcasts where you can get new insight into the world of crypto finance and also learn a few tricks about trading. There is also an editor's choice section where you will find all the most popular topics that other traders are reading.
For a detailed review of the Kraken, platform click the button below.
What different crypto exchange types are there
When it comes to choosing the right type of exchange it's important to know what kind of exchanges there are to be able to select the one best suited for you. Take your time to read the table below as you might find that you have been using the wrong platform all the time.
Type
Security
Best for
Example
Centralized
* Regulated = High
* Non-regulated = Low
* Traders
* Investors
* Beginners
BlockFi
BitMart
Beaxy
Decentralized
* High
* Investors
* Traders
* Experienced
StealthEX
SwapSpace
Swapzone
Hybrid
* Regulated = High
* Non-regulated = Low
* Traders
* Investors
* Experienced
Infiniteblocktech
Espay
Qurrex
Spot
* Regulated = High
* Non-regulated = Low
* Traders
* Investors
* Beginners
BlockFi
BitMart
Beaxy
Derivatives
* Regulated = High
* Non-regulated = Low
* Traders
* Beginners
Bitfinex
Gate.io
EXMO
Custodial
* Regulated = High
* Non-regulated = Low
* Traders
* Investors
* Beginners
Coinbase
Kraken
FTX.US
Non-custodial
High
* Investors
StealthEX
SwapSpace
Swapzone
Below is a short description of each type to give you an idea of what they offer, the fees, why you should use it, and also some general tips that I think will be helpful when choosing a US-based exchange.
Centralized
Centralized cryptocurrency platforms in America are some of the most popular platforms today and they are considered to be the standard exchange such as Coinbase and Kraken. They have relatively low entry levels which means they are good for beginners. The fees are typically a little bit higher in my opinion but this is sort of the compromise you have to pay for using a great place to trade.
Centralized exchanges are also popular thanks to the great interfaces and features they have which range all the way from fiat accounts to advanced charting interfaces. Another great feature of centralized exchanges is that you sometimes can cash out bitcoin or sell cryptocurrencies with fiat money.
Decentralized
Decentralized exchanges in the United States are the new kids on the block and the deal here is that they are completely run on the blockchain. But what does this mean? It's exactly as it sounds and the way they work is through the blockchain. All transactions are on the blockchain and there is no option for fiat solutions.
Typically, a decentralized exchange has fewer features than a centralized one. What makes the decentralized platforms stick out is the fact that they are much safer in nature as everything is run on the blockchain. So, if you know how to use the blockchain you will definitely like this kind. The fees are generally a little lower in my opinion.
Hybrid
Hybrid exchanges in the USA are the best of the two worlds where the exchange has both features from the centralized side and the decentralized side. They can be used together with the blockchain but there are also other cool features that you can only get on a centralized exchange. The fees are fairly low and what's cool about a hybrid is that they offer very modern interfaces and new technologies which makes them great for true crypto lovers.
Spot
Spot platforms in the US are simple exchanges that only offer blank trading in bitcoin and other cryptocurrencies. Something you usually see on a spot exchange is decent trading interfaces, fiat payment options, and other features for investors. A good example here is Coinbase. They offer superb investing opportunities but they lack the advanced trading interfaces that many active day traders use. The fees are pretty standard and they are a little bit more expensive in general.
Spot exchanges can be both centralized, decentralized, or hybrids.
Derivatives
US derivatives exchanges are made for traders who are looking for different instruments to trade altcoins, such as futures, options, and leverage trading. You will often see 100x or even more, leverage being offered here and this is only something that seasoned crypto traders should try. Derivatives exchanges are usually non-regulated and should be treated carefully. Derivatives exchanges also offer you to short sell bitcoin and other cryptocurrencies.
There have been several cases where traders lost their funds due to non-regulated platforms or simply because they used too much leverage. Be careful!
Derivatives exchanges are usually centralized.
Custodial and Non-custodial
Custodial exchanges store your cryptocurrencies in their wallets and you don't have to worry about keeping them safe. Non-custodial exchanges do not store your coins and are usually built on the blockchain and are therefore in nature decentralized. Most custodial exchanges are centralized.
Non-custodial are often more secure due to the nature of the blockchain. Only regulated custodial exchanges should be used.
Crypto exchanges that accept traders from USA
There are several digital asset exchanges that are not located in the USA but still offer investors from the US to create an account and trade. Crypto investors often have trouble creating accounts on foreign exchanges due to the USA being a restricted country. We are constantly reviewing platforms and what we can see is that most exchanges ban US traders from entering the platform. However, there are some European exchanges and foreign platforms that still accept American crypto traders.
Below is a list of the best cryptocurrency exchanges that accept US traders:
Click each name to go to the following review where you will get an in-depth view of what it offers. If you decide to try a platform outside of the US I highly recommend that you use a regulated one such as CEX.IO or EXMO, they are both regulated by FinCEN, a government financial body of America.
How to buy bitcoin and cryptocurrency with USD
If you are a beginner in blockchain technology but still want the cheapest way to buy bitcoin or cryptocurrencies with US dollars I suggest that you choose a platform with the fiat option for USD. I will share some quick steps that will give you an idea of how to actually buy your favorite coins and where to do it.
Below follows a list of platforms that I highly recommend for investors looking to invest as little as $100 in cryptocurrencies:
The simple steps to purchase coins are the following:
Step 1 – Select an Exchange
Select the cryptocurrency exchange that has your payment method and your favorite coins. This is going to be different for each investor so make sure that you have read through each review to find the best platform for you.
Once you have selected the most suitable place to start it's time to sign up with your email address.
Step 2 – Sign Up
When you sign up you are asked to enter your email address in the signup process.
This will only take a few moments.
Here is an example of the signup process on Coinbase but this will be very similar on the other sites as well.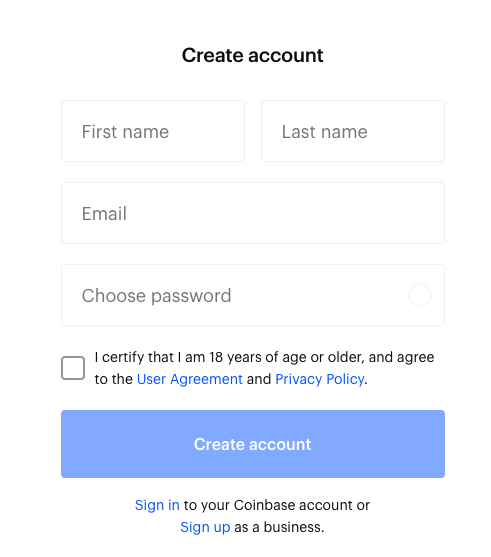 The platform will then send you a confirmation email to your inbox with a link that you click to confirm that you are the owner of the email address.
Click the link and confirm your ownership of the email address.
Step 3 – Verify your Identidy
After you have signed up it's time to verify your identity and send in some KYC (Know Your Customer) documents such as your Passport, Driving License, or National ID card.
This is a very smooth process that has been streamlined to help traders verify themselves.
In this process, you can usually choose how you want to identify yourself, personally, I prefer to use my driving license.
There might be a step where you need to send in a photo or a selfie of your face to match it with the ID card.
Step 4 – Deposit Money
In this step, you are going to buy crypto with a credit card, debit card, or bank account to make a deposit or transfer money to your exchange account.
Some sites will also offer deposits through e-wallets and other local payment methods so make sure to read through the reviews we have of each exchange before you start.
Locate the deposit button on the home page and choose the amount you want to start with.
Many platforms will accept low deposits like $100.
Step 5 – Buy Cryptocurrency
The final step is to choose your cryptocurrency and make an investment.
This is easiest done by locating the coins or marketplace.
Here is an example from Coinbase:
Some will be cryptocurrency exchanges with a lot of coins.
Now, simply click "Buy" and select your amount.
Congrats!
You've now successfully invested in bitcoin or any other cryptocurrency with USD.
Crypto exchange with the lowest fees in USA
Out of all the sites we have reviewed and listed in the USA there are some of them that offer lower entry fees and lower trading fees. The benefit of using a platform with a lower fee is obvious and everyone should try to save as much as they can on fees.
Fees are the number one thing that can eat out for your portfolio as an investor and you should spend some time finding a cheap bitcoin exchange in the USA before starting out.
Below is a table of all cryptocurrency exchanges we have listed in this guide but we have sorted them from the cheapest to the most expensive and also included the minimum account requirement:
Just by looking at these numbers, we can see that BlockFi is the cheapest crypto exchange with the lowest trading fees.
The cryptocurrency exchange with the lowest minimum deposit for US traders is Gate.io.
US beginner crypto exchanges
I would like to highlight some of the more beginner-friendly US cryptocurrency exchanges from this list to make it easier for beginners to choose a platform. What makes these sites easy to use is the beginner-friendly interfaces that are designed to make things less complicated for first-time users.
On Tradingbrowser we have a special feature called "Beginner Friendly" and we only give this to platforms that we consider are exceptionally easy to use. Below follows a list of sites that have earned this "Beginner Friendly" badge by our team:
When using these sites you can be sure that it will be easy to navigate around the main menus and most features will be easy to understand for beginner investors. Some features that have been simplified on these sites are:
Sign Up
Deposit
Investing
Charting
Educational content
The overall experience is also customized to be more suited for first-time users and non-experienced cryptocurrency investors. In our full reviews of these sites, you can read up on more features that you are interested in such as staking, copy trading, passive investing, etc.
Largest digital asset exchanges in the USA
After doing extensive research and many reviews we have collected data on which cryptocurrency exchange is the biggest in the USA. This is best compared when looking at the combined trade volume on each platform to see which one is attracting the most traders and investors.
In this comparison, we are only going to use US crypto trading platforms and look at their size. To summarize everything we have compiled an easy-to-read table with all numbers calculated for you.
| Exchange | Trade Volume last 24h |
| --- | --- |
| Coinbase | $4,154,370,685 |
| BitMart | $1,408,111,581 |
| Kraken | $1,369,770,163 |
| Bitfinex | $800,904,376 |
| Gate.io | $547,356,386 |
| FTX.US | $163,226,540 |
| EXMO | $76,371,897 |
| CEX.IO | $72,571,254 |
| Beaxy | $48,659 |
BC Bitcoin and BlockFi are the only platforms that we could not find information about trade volume but we assume that BlockFi is in the top 5 positions due to its popularity. BC Bitcoin is a rather unknown exchange from the UK that exchanges US traders.
Take this into account when choosing your new site. Some of the biggest crypto exchanges in the US are also some of the best so the volume is a good indication and it says that the largest platforms are more trustworthy.
USA cryptocurrency exchange security
How do you know which platform is safe and what cryptocurrency exchange security means, especially for US platforms?
I will try to summarize these questions in a couple of paragraphs to make you understand better what we mean when we say platform security and also help you find the most secure cryptocurrency exchange in the United States.
Here is a list of the most important security aspects of any platform and they should at least include half or more of these points to be considered a safe place to invest in cryptocurrencies.
Regulation and License
Size
Age
KYC
Customer Support
Volume
Digial Asset Storage
Location
Age
AML
Regulation and License
The most trusted US crypto platforms are always regulated and licensed by the government. In the US there are several government regulations that are applied to the best digital asset platforms. These regulations include FinCEN, CFTC, NYSDFS, SEC, FTC, OCC, IRS, and others.
You should hesitate to use any exchange that is non-regulated and that is not a very popular platform with a long track record of being safe.
Size
In this regard, the size of a site matters as the bigger the following, the better infrastructure the platform will have. Only the biggest US exchanges should be trusted as they have been tested by thousands of traders. If you decide to test a smaller site we recommend that you start out very small.
Try to make good research to see how big the platform is and also how popular it is.
Age
The longer an exchange has survived the better it is for two reasons:
Traders love the site and keep coming back which is a very healthy sign
No hacks have occurred which is a very good sign for the security of the site.
KYC
All established cryptocurrency exchanges in the US should do their due diligence and collect information on each customer they serve. Why this is important is only for security reasons. A site that doesn't collect KYC documents doesn't know who is trading on the platform and it can therefore be dangerous to use it.
KYC documents are also an extra security layer for your account. Only you can provide the correct KYC documents for your own account and therefore, you are the only one who can unlock your account if it has been suspended for some reason.
Customer Support
Good customer support is a must for any great platform that handles cryptocurrency traders and investors. The reason why we always like to see a good and fast responsive live chat is that many traders will stumble on complex problems that need solving straight away and an email doesn't cut it.
Also, if your account has been compromised, only a customer support agent can lock your account and stop any intruder from stealing your funds. You can later unlock your own account with your personal KYC documents.
Volume
Volume means activity and activity means popularity. When a site is popular it's a good sign that they have done something right and it's also a good sign that its trading infrastructure is on top because it can handle large transaction volumes.
Always look for a platform with a high average volume, this information can be found at sites like Coinmarketcap where they display the last 24h volume.
Digital Asset Storage
There are two different kinds of digital asset storage on an exchange:
Hot/Online storage
Cold/Offline storage
The most secure US exchanges will have both but will store most of the customer funds in offline or cold storage. Offline storage is the most secure place to store funds since it is practically impossible for a hacker to reach them.
Location
The location of the exchange is also a big factor when it comes to security. If they promote themselves to be an American crypto trading platform and then have offices in the Cayman Islands or the Marshall Islands it is a sign that something is not right.
For security reasons, only use crypto exchanges that are located inside the United States or in reputable countries outside.
AML
AML stands for Anti Money Laundering and this is a process where the exchanges will run tests on traders to see if their profile fits the standard trader or if something is out of the norms. These systems can detect when traders are doing unnatural transactions in and out of their accounts and will raise red flags if they find something suspicious.
The AML process should be something that all sites employ for security reasons.
How to open a cryptocurrency and bitcoin account in the USA
By now you should have an idea of which exchange you want to use to invest in the blockchain tokens or trade them more actively.
Today US crypto investors are very fortunate to have trusted platforms where bitcoin account creation is both simple and secure. To make things easier for you I've included a step-by-step guide on how to open a cryptocurrency or bitcoin account in the USA.
The process will be the same for any exchange that you use and make sure you have your KYC documents ready at hand. The process of signing up with a cryptocurrency or bitcoin account has been streamlined to the point that anyone can do it.
Step 1
Now it's time to sign up for an account and the first thing you want to do is to visit the exchange by typing it into your browser.
When you enter the platform, locate the Sign-Up button which is usually located in the middle of any of the top corners of the screen.
Click Sign-Up!
Step 2
Now, fill in the information required. This is usually your email address and a password, it can sometimes include your first and last name as well.
Once all fields have been filled in you can go ahead and click Sign-Up or register.
Step 3
The third step is to verify your email address.
The site will send you an email with a verification link.
Click this link to get verify your email.
You will now get redirected back to the site to log in with your new account.
Step 4
You have now registered your new account but before you are done with creating the account you need to send in your KYC documents.
The registration process always ends with the KYC procedure and the platform will most likely ask you to do this the first time you log in.
Click Yes to proceed with the KYC filing.
This is a very simple process that anyone can do and it requires you to have your passport, driving license, or national ID at hand.
When you have sent in your KYC documents it will take between 5 minutes up to a couple of hours to verify your identity, once it's finished you are all done.
Congrats! You've successfully opened a cryptocurrency account!
Leading Exchange wallets in USA to store crypto
Now, when it comes to storing your digital funds on an exchange you need to make sure that you are using a platform with strong exchange wallets. Some of the best exchange wallets in the USA are the ones that keep your funds stored in an offline or cold storage wallet.
Below follows a list of the best exchange wallets in the USA that keep your funds stored offline:
For maximum security, while investing in tokens you should only use one of these four sites. Different exchanges may have segregated bank accounts and insurance funds but nothing will beat the safety of having your funds stored offline.
Make sure that you do your research before signing up for a new account. Check our crypto platform reviews to get more insight into every important US crypto platform and to see whether they are employing cold storage for all customer funds.
Conclusion
This is a helpful guide for crypto investors located in the USA who are looking for a new exchange. We have included the best cryptocurrency exchanges in the USA where you can click your way through to the review page and get a detailed review of each site.
There is a lot of helpful information regarding the security around these sites so take your time to read through the whole guide. You will also learn how to open a cryptocurrency account in the USA with a step-by-step guide that is easy to follow. We also include the biggest sites in the USA and also the most beginner-friendly crypto exchanges.
The cryptocurrency exchanges with the lowest fees in the USA have a separate section in this guide with a table showcasing the lowest fees by ranking. We've included a guide on how to buy bitcoin and other cryptocurrencies in the United States with a step-by-step guide.
In this guide, you will be able to see exactly how we rate these exchanges and also what different types of cryptocurrency exchanges there are in the USA. We wish you good luck with your investments and hope this guide was helpful!
FAQ
Some of the best exchanges to trade cryptocurrencies and altcoins in the United States are BitMart, FTX.US, Coinbase, BlockFi, Kraken, and Beaxy.
Some of the best bitcoin exchange wallets for US investors are Coinbase, Kraken, BitMart, and FTX.US. All of these sites have cold or offline storage wallets for most of the customer funds.
This is best done through Coinbase, Kraken, Beaxy, BlockFi, or BitMart as they are fully regulated platforms inside the US.
By far, Coinbase is the most trusted player in the game of exchanges in America. It is regulated as a Money Service Business and is compliant with all US laws.
The three most important types of exchanges are Centralized, Decentralized, and Hybrid. More information about these types can be found in this guide.
In this guide, we review and compare the top 6 crypto exchanges in the United States. These platforms are Coinbase, Kraken, FTX.US, BlockFi, Beaxy, and BitMart.
All sites in this guide have top-level security features and all of them are regulated by the US government. Among all these platforms we consider Coinbase to be one of the most trusted bitcoin sites in the USA.